This enlightening presentation unveils the rich and intricate history of Natural Language Processing (NLP), tracing its roots from the early theoretical foundations to its dynamic evolution leading up to the development of ChatGPT, a transformative language model. As we delve into this fascinating journey, we will explore the key milestones, breakthroughs, and paradigm shifts in the NLP landscape. We will present real-world use cases, showcasing how businesses across industries are leveraging NLP to unlock insights and fuel innovation. Attendees will gain a comprehensive understanding of NLP's past, its present implications, and its future potential in reshaping industrial landscapes.
The theoretical foundations of Natural Language Processing (NLP) and its evolution over time.
Key milestones and breakthroughs in the development of NLP, highlighting significant advancements.
The role of language models, such as ChatGPT, in shaping the field of NLP and their impact on various applications.
Real-world use cases demonstrating the practical applications of NLP across different industries.
The transformative power of NLP in unlocking insights, driving innovation, and improving business processes.
————————————————————————————————————————————————————
Dr. Sahar Tahvili – Product Development Leader | Ericsson AB
Sahar Tahvili is an accomplished Product Development Leader at Ericsson AB, where she leverages her expertise in software engineering. Sahar has a strong academic background with a Ph.D. in Software Engineering from Mälardalen University. Recently, she co-authored a book titled "Artificial Intelligence Methods for Optimization of the Software Testing Process" alongside Leo Hatvani. Sahar's research is primarily focused on artificial intelligence (AI) and its application in optimizing the testing process for complex software-intensive systems. She is also passionate about designing decision support systems (DSS). Prior to her current role, Sahar served as a senior researcher at the Research Institutes of Sweden and gained valuable experience as a senior data scientist at Ericsson AB.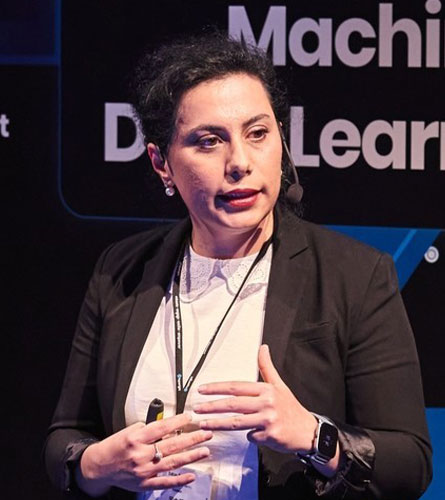 October 26 @ 16:25
Day 2 | 26 Oct 2023 | MACHINE LEARNING + MLOPS
Dr. Sahar Tahvili – Product Development Leader | Ericsson AB