Cities around the world are changing at breakneck speed. Urban development is a huge risk and opportunity as cities struggle to sustainably house, power, feed, and provide services for a rapidly shifting and increasingly digital population. These complex, interconnected risks are accumulating and propagating. We need new data-driven approaches and tools, and machine Intelligence-enhanced solutions, to predict and prevent risks and deliver resilience-as-a-service solutions.
Urban risks are interconnected
Digital technologies present an opportunity to better manage risks and optimise resources in real-time
Swiss Re Institute's Quantum Cities™ uses technology and risk knowledge to solve for complex, entangled urban risks to enable sustainable economies and societies
————————————————————————————————————————————————————
Alicia Montoya – Head Research Commercialization | Swiss Re
Alicia Montoya heads Swiss Re Institute's Research Commercialization unit, bringing high potential initiatives from ideation to commercialization. Her work focuses on developing technology, core IP, partnerships, and end-to-end resilience offerings.
Alicia joined Swiss Re in 2012, driving innovation, product development, and commercialization of solutions that address some of the world's biggest risks, from climate change and natural catastrophes to sustainable energy, food security, infrastructure and transportation. She leads Swiss Re's Quantum Cities™ initiative, using tech to foster sustainable economies and societies.
Alicia started her career in London as a financial journalist at Bloomberg, then worked at the European Commission before joining Swiss high-tech start-up, u-blox, in 2005. She then worked for Alstom, driving the company's Clean Power campaign, promoting solutions to help utilities and governments transition to clean energy.
Alicia holds a B.A. in Economics, MSc in Social Anthropology and MSc in Multimedia Systems. She is a member of the IUCN's World Commission on Protected Areas (WCPA). Alicia is also a FinTech mentor, helping start-ups use new data, technology, and modeling to advance sustainability.
Elena Pesce – Business Analyst | Swiss Re
Elena Pesce is a Business Analyst at Swiss Re Institute's Research Commercialization unit. Elena leads the team's sustainable supply chain initiatives, shaping and commercializing solutions globally. Working with experts globally, Elena develops novel modelling approaches to deliver new data-driven insights and analytics services.
Since joining the Swiss Re Institute in 2020, Elena is working on developing holistic supply chain solutions that enable better supply chain management to increase resilience and enhance sustainability.
Prior to Swiss Re, Elena worked as a junior data scientist at Evo Pricing focusing on dynamic pricing and supply chain management. She then joined Swiss Re as a PhD Researcher in 2017, working on marine logistics to develop new forward-looking models.
Elena is a PhD candidate in Mathematical Methods for Data Analysis and holds a MSc in Stochastics and Data Science. She speaks about machine learning and algorithmic biases, driven by her passion to translate complex concepts into simple terms.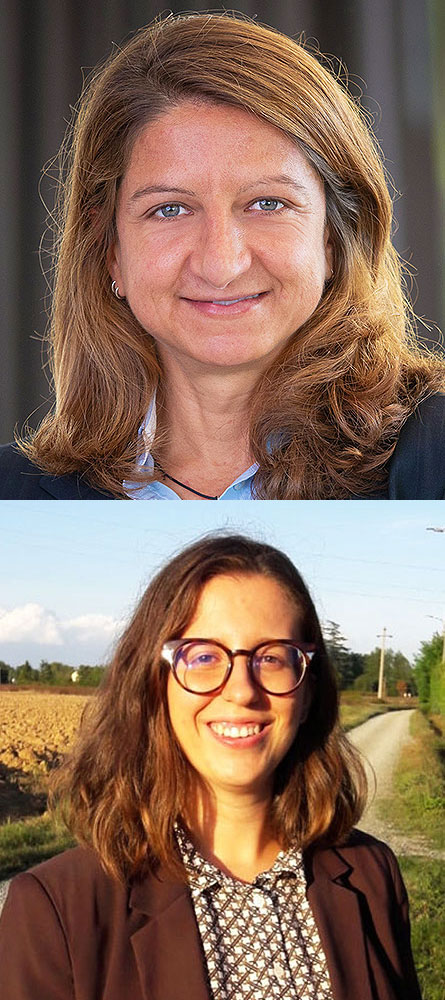 May 27 @ 13:15
Day 3 | 20th of May – Logistics & Transportation
Alicia Montoya – Head Research Commercialization | Swiss Re, Elena Pesce – Business Analyst | Swiss Re